Transforming Healthcare: Essential Features for Your Cutting-edge Telemedicine App
May 16, 2023

Rupesh Chanchal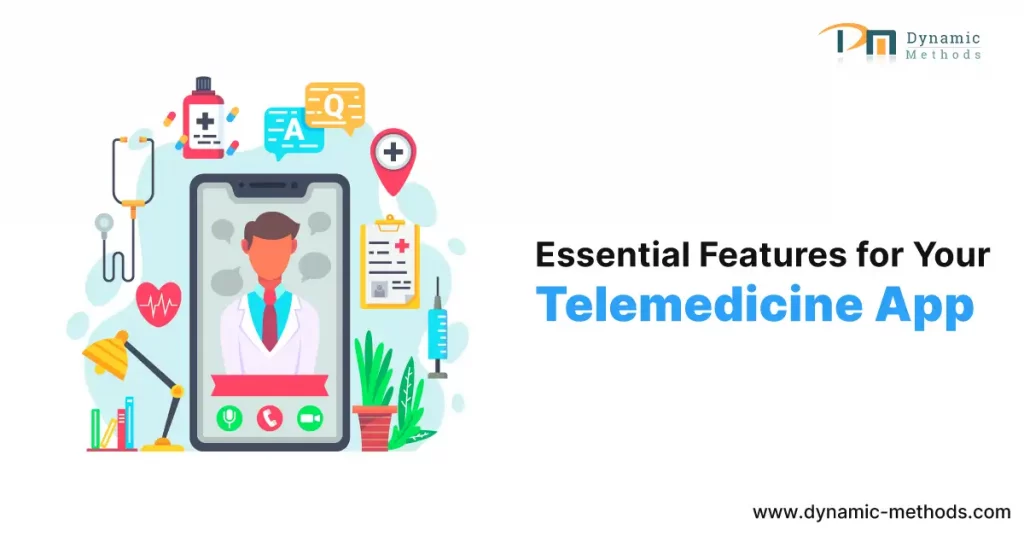 In our technologically advanced society, the focus on comfort, convenience, and accessibility has never been more significant. The healthcare industry is no exception, with telemedicine apps taking center stage, transforming how we approach and access medical services.
These digital platforms have created a space where medical advice and consultation are merely a few taps away, breaking down traditional barriers and boundaries in the healthcare industry.
However, carving a niche in this fast-paced and dynamic sector requires a strategic approach, particularly when designing and developing a telemedicine app.
The key to success lies in the careful consideration and integration of specific features that facilitate a smooth and satisfying user experience, while also ensuring optimal healthcare outcomes.
This article delves into the crux of what makes a telemedicine app truly stand out, focusing on the theme, "Transforming Healthcare: Essential Features for Your Cutting-edge Telemedicine App."
1. User Registration and Profile Creation
To deliver tailored healthcare services, your telemedicine app should offer a robust user registration and profile creation feature. This functionality enables patients to set up personal accounts where they can provide essential information, such as their names, ages, contact details, and medical histories.
The safe and secure storage of this information allows healthcare professionals to quickly access it during consultations, providing a more accurate diagnosis and treatment plan.
2. Secure Data Transmission
The importance of privacy and data security cannot be overstated in the healthcare industry. It's crucial to integrate robust encryption protocols and secure data transmission channels in your telemedicine app to safeguard sensitive patient information from unauthorized access.
Prioritizing such security measures will inspire trust and confidence in your users, propelling widespread adoption of your app.
3. Virtual Appointment Scheduling
A standout feature of a telemedicine app is its ability to streamline the process of scheduling virtual appointments. A user-friendly appointment scheduling system should allow patients to choose their preferred time slots, view the availability of doctors, and receive confirmation notifications.
This feature will simplify the process for both patients and healthcare providers, enhancing the overall experience.
4. Real-time Communication
Communication is at the heart of healthcare service delivery. Your telemedicine app should foster an environment where real-time interaction between patients and doctors is facilitated through features like live chat, audio calls, and video consultations.
Such a feature offers a platform for patients to articulate their symptoms effectively, while doctors have the opportunity to ask pertinent questions and offer medical advice, all from remote locations.
5. Prescription and Medication Management
A telemedicine app should optimize the prescription and medication management process. Digital doctors should have the ability to generate e-prescriptions that can be sent directly to pharmacies, simplifying medication acquisition for patients.
Furthermore, medication reminders and tracking features are valuable additions that will help patients comply with their treatment plans effectively.
6. Integration with Wearable Devices
To take your telemedicine app a notch higher, consider integrating it with wearable devices. Such devices, including fitness trackers and smartwatches, collect valuable health data such as heart rate, sleep patterns, and physical activity levels.
Digital doctors can analyze this data to provide personalized health recommendations and implement early intervention strategies when necessary.
The inclusion of secure payment gateways within your telemedicine app can significantly enhance user experience.
By allowing patients to pay for consultations, prescriptions, and other services through various convenient payment methods, you foster a hassle-free payment experience. This ensures patient satisfaction and encourages continuous app usage.
8. Multi-language Support
In our diverse global society, providing multi-language support in your telemedicine app is essential. Make sure patients can select their preferred language during registration and throughout their interactions with the app. This inclusive approach makes healthcare services accessible to a broader audience, regardless of their language preferences.
In our diverse global society, providing multi-language support in your telemedicine app is essential. Make sure patients can select their preferred language during registration and throughout their interactions with the app. This inclusive approach makes healthcare services accessible to a broader audience, regardless of their language preferences.
10. Rating and Review System
Transparency and accountability should be the cornerstone of your telemedicine app. Incorporating a rating and review system allows patients to provide feedback and rate their experiences with digital doctors.
This feature not only aids future users in making informed decisions, but it also motivates healthcare providers to maintain excellent service quality.
11. User-friendly Interface
The success of your telemedicine app hinges on its usability. Ensure it has an intuitive and user-friendly interface. A clean and organized layout, easy navigation, and clear instructions contribute to a positive user experience. Prioritizing usability will help attract and retain users, leading to long-term app engagement.
12. Appointment Reminders
Missed appointments can be minimized by incorporating a reminder feature into your telemedicine app. Timely reminders through push notifications or SMS can reduce forgetfulness and improve overall appointment adherence.
13. Emergency Services Integration
For serious situations, seamless access to emergency services is vital. By integrating emergency service contact details within your app, users can quickly reach out for help when needed. This feature not only enhances patient safety but also instills confidence in the reliability of your app.
14. Artificial Intelligence and Machine Learning
Artificial Intelligence (AI) and Machine Learning (ML) are powerful tools that can greatly enhance your telemedicine app's capabilities. These technologies can assist in automating tasks, analyzing complex medical data, and providing intelligent recommendations.
The integration of AI and ML enables digital doctors to offer accurate diagnoses and personalized treatment plans more efficiently.
Extending your app's services to include telepharmacy ensures a seamless healthcare experience. Enable patients to order medications through the app and have them delivered to their doorstep. This feature adds an extra layer of convenience and accessibility for patients.
16. Health Tips and Blogs
A section dedicated to health tips and informative blogs can help educate and engage users. By providing well-researched articles on a variety of health topics, you empower users with valuable knowledge and position your app as a trustworthy source of health-related information.
17. Integration with Insurance Providers
Simplify the billing process by integrating your app with insurance providers. This allows patients to check their insurance coverage, submit claims, and receive real-time updates on reimbursement status, reducing the administrative burden on both ends.
To enhance your app's convenience, integrate geolocation services. This allows users to locate nearby healthcare providers, clinics, or pharmacies based on their current location, facilitating easy access to local healthcare services.
19. User Feedback and Support
To keep improving your telemedicine app, it's crucial to encourage user feedback and provide reliable support channels. Allow users to share their suggestions, report issues, and seek assistance through in-app feedback forms or a dedicated support chat. Timely responses to user concerns reflect your commitment to customer satisfaction.
20. Data Analytics and Insights
Utilize data analytics tools to gain valuable insights into app usage patterns, user behavior, and healthcare trends. These insights can help identify areas for improvement, optimize features, and tailor services to meet user preferences.
Data-driven decision-making ensures your telemedicine app stays relevant and competitive in the ever-evolving healthcare landscape.
21. Compliance with Regulatory Standards
Ensure your telemedicine app complies with relevant regulatory standards and data protection regulations. Compliance with privacy laws and security measures builds trust among users and safeguards their sensitive health information.
Staying updated with industry regulations helps maintain compliance and provide a secure healthcare platform.
22. Seamless Integration with Existing Systems
For healthcare institutions or practices that already have established systems in place, seamless integration is essential. Your telemedicine app should be compatible with existing electronic health record (EHR) systems, appointment management software, and other healthcare tools. This integration optimizes workflow efficiency and ensures a cohesive healthcare ecosystem.
23. Enhanced Security Measures
To protect user data and maintain confidentiality, robust security measures should be implemented. Employ data encryption, user authentication protocols, and regular security audits to identify and address vulnerabilities proactively.
Prioritizing security not only instills user confidence but also establishes your telemedicine app as a trusted platform for digital healthcare services.
24. Continuous Development and Updates
To stay competitive and relevant in the rapidly evolving telemedicine landscape, continuous development and updates for your app are necessary. Regularly releasing new features, bug fixes, and performance enhancements based on user feedback and industry advancements can ensure a seamless and continually evolving user experience.
25. Data Backup and Recovery
Implement a reliable data backup and recovery system to prevent data loss and ensure business continuity. Regularly backup user data, including medical records and preferences, to secure storage servers. A robust data recovery mechanism minimizes disruptions and provides a reliable user experience.
The key features to consider for your telemedicine app revolve around creating a seamless user experience and ensuring optimal healthcare outcomes.
With features like user registration, secure data transmission, virtual appointment scheduling, and real-time communication, your telemedicine app can deliver convenient and reliable healthcare services.
Moreover, features like prescription and medication management, integration with wearable devices, and multi-language support can enhance the app's functionality and accessibility.
Prioritizing security, compliance, and continuous development is crucial to stay at the forefront of the rapidly evolving telemedicine landscape. With these key features in place, your telemedicine app can revolutionize healthcare delivery and improve patient outcomes.
Interested in developing a telemedicine app that truly makes a difference? Contact us today for a detailed consultation and let us help you build an app that meets the healthcare needs of the future.
FAQs (Frequently Asked Questions)
Telemedicine refers to the provision of healthcare services remotely, utilizing telecommunications technology. It enables patients to consult with healthcare professionals, receive medical advice, and access healthcare resources without needing to physically visit clinics or hospitals.
2. How does a telemedicine app work?
A telemedicine app connects patients and healthcare providers virtually. Patients can register, schedule appointments, communicate with doctors, and receive medical advice through the app.
Digital doctors can access patient information, provide diagnoses, and offer treatment recommendations remotely.
3. Is telemedicine secure?
Yes, telemedicine apps prioritize security measures to ensure the privacy and confidentiality of patient data. This is done through encryption protocols, secure data transmission channels, and compliance with regulatory standards.
4. Can I get prescriptions through a telemedicine app?
Yes, telemedicine apps often provide e-prescription services. Digital doctors can generate electronic prescriptions and transmit them directly to pharmacies for convenient medication fulfilment.
5. Are telemedicine apps suitable for all medical conditions?
Telemedicine apps are suitable for managing various non-emergency medical conditions. However, certain medical conditions may require in-person consultations and physical examinations. Consult with a healthcare professional to determine if a telemedicine app is suitable for your specific condition.
6. How can I ensure the quality of care in a telemedicine app?
Choose a telemedicine app that prioritizes secure communication, personalized consultations, and user feedback systems to ensure quality of care. Checking the credentials and qualifications of the healthcare providers associated with the app is also vital.